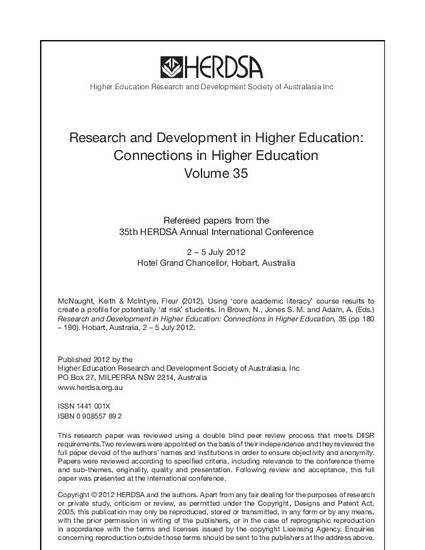 Article
Using 'core academic literacy' course results to create a profile for potentially 'at risk' students
Research and Development in Higher Education: Connections in Higher Education
Publication Date
1-1-2012
Abstract
This paper suggests students who are 'at risk' might also be identified through the analysis of performance within a core academic literary unit, taken within the first semester of their course. By identifying students with a low pass score in a core academic literacy unit, and analysing these students by a range of factors, a course and/or faculty specific 'at risk' profile may be created. In an analysis of students undertaking a Health Science core academic literacy unit in Semester 1, 2010, and tracking those students over their first year of studies, three factors, when in combination, emerged to create an 'at risk' profile. Those factors were being male, using a Certificate IV to meet minimum entry requirements and being students within the Health and Physical Education program. Adequately supported, there is nothing to suggest that such students could not be successful in their studies. However, the major identified issue is that these students are reluctant to engage in support programs, and the reasons for this lack of support engagement are explored, and it is contended that the potential reasons are for the most part, not academic, but related to psychological dispositions and personal characteristics.
Keywords
Peer-reviewed,
Published in Full
Citation Information
Keith McNaught and Fleur McIntyre. "Using 'core academic literacy' course results to create a profile for potentially 'at risk' students"
Research and Development in Higher Education: Connections in Higher Education
Vol. 35 (2012) ISSN: 0 908557 89 2
Available at: http://works.bepress.com/keith-mcnaught/24/