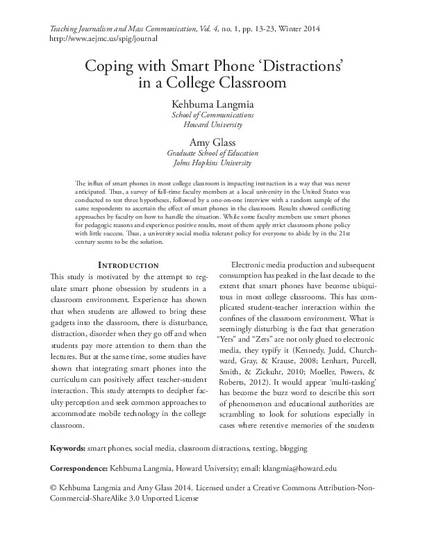 Article
Coping with Smart Phone 'Distractions' in a College Classroom
Teaching Journalism and Mass Communication (2014)
Abstract
The influx of smart phones in most college classroom is impacting instruction in a way that was never anticipated. Thus, a survey of full-time faculty members at a local university in the United States was conducted to test three hypotheses, followed by a one-on-one interview with a random sample of the same respondents to ascertain the effect of smart phones in the classroom. Results showed conflicting approaches by faculty on how to handle the situation. While some faculty members use smart phones for pedagogic reasons and experience positive results, most of them apply strict classroom phone policy with little success. Thus, a university social media tolerant policy for everyone to abide by in the 21st century seems to be the solution.
Publication Date
Winter 2014
Citation Information
Kehbuma Langmia. "Coping with Smart Phone 'Distractions' in a College Classroom"
Teaching Journalism and Mass Communication
Vol. 14 Iss. 1 (2014) p. 13 - 23
Available at: http://works.bepress.com/kehbuma-langmia/7/