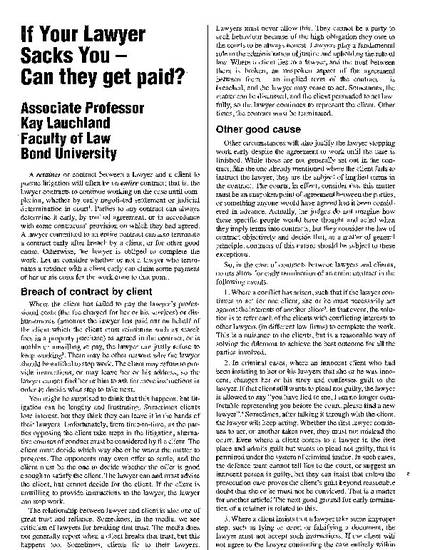 Article
If your lawyer sacks you- Can they get paid?
The National Legal Eagle
Abstract
Extract: A retainer or contract between a lawyer and a client to pursue litigation will often be an entire contract; that is, the lawyer contracts to continue working on the case until completion, whether by early negotiated settlement or judicial determination in court. Parties to any contract can always determine it early, by mutual agreement, or in accordance with some contractual provision on which they had agreed. A lawyer committed to an entire contract can also terminate a contract early after breach by a client, or for other good cause. Otherwise, the lawyer is obliged to complete the work. Let us consider whether or not a lawyer who terminates a retainer with a client early can claim some payment of her or his costs for the work done to that point.
Citation Information
Kay Lauchland. "If your lawyer sacks you- Can they get paid?" (2005)
Available at: http://works.bepress.com/kay_lauchland/8/