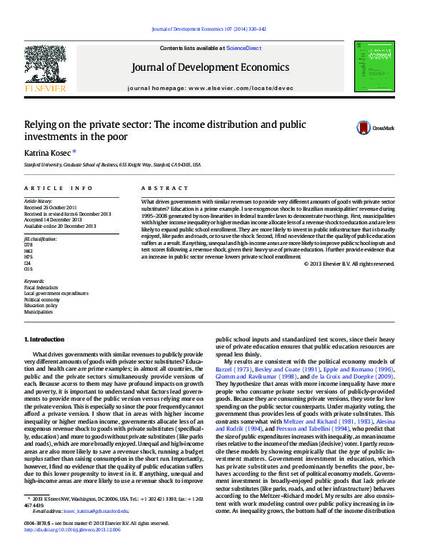 Article
Relying on the Private Sector: The Income Distribution and Public Investments in the Poor
Journal of Development Economics (2014)
Abstract
What drives governments with similar revenues to provide very different amounts of goods with private sector substitutes? Education is a prime example. I use exogenous shocks to Brazilian municipalities' revenue during 1995-2008 generated by non-linearities in federal transfer laws to demonstrate two things. First, municipalities with higher income inequality or higher median income allocate less of a revenue shock to education and are less likely to expand public school enrollment. They are more likely to invest in public infrastructure that is broadly enjoyed, like parks and roads, or to save the shock. Second, I find no evidence that the quality of public education suffers as a result. If anything, unequal and high-income areas are more likely to improve public school inputs and test scores following a revenue shock, given their heavy use of private education. I further provide evidence that an increase in public sector revenue lowers private school enrollment.
Publication Date
March, 2014
Citation Information
Katrina Kosec. "Relying on the Private Sector: The Income Distribution and Public Investments in the Poor"
Journal of Development Economics
Vol. 107 (2014)
Available at: http://works.bepress.com/katrina_kosec/10/