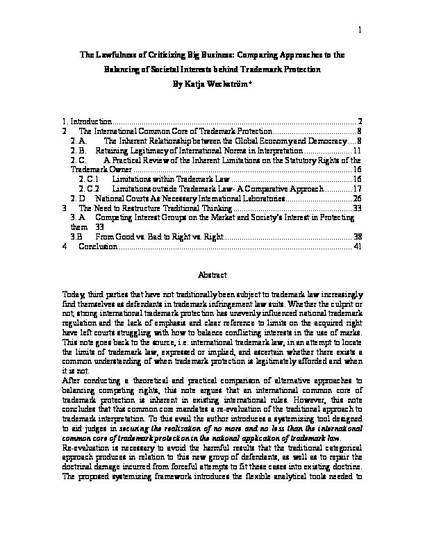 Unpublished Paper
The Lawfulness of Criticizing Big Business: Comparing Approaches to the Balancing of Societal Interests behind Trademark Protection
ExpressO (2007)
Abstract
Today, third parties that have not traditionally been subject to trademark law increasingly find themselves as defendants in trademark infringement law suits. Whether the culprit or not, strong international trademark protection has unevenly influenced national trademark regulation and the lack of emphasis and clear reference to limits on the acquired right have left courts struggling with how to balance conflicting interests in the use of marks. This note goes back to the source, i.e. international trademark law, in an attempt to locate the limits of trademark law, expressed or implied, and ascertain whether there exists a common understanding of when trademark protection is legitimately afforded and when it is not.
After conducting a theoretical and practical comparison of alternative approaches to balancing competing rights, this note argues that an international common core of trademark protection is inherent in existing international rules. However, this note concludes that this common core mandates a re-evaluation of the traditional approach to trademark interpretation. To this avail the author introduces a systemizing tool designed to aid judges in securing the realization of no more and no less than the international common core of trademark protection in the national application of trademark law.
Re-evaluation is necessary to avoid the harmful results that the traditional categorical approach produces in relation to this new group of defendants, as well as to repair the doctrinal damage incurred from forceful attempts to fit these cases into existing doctrine. The proposed systemizing framework introduces the flexible analytical tools needed to service the global market place in striking an adequate balance between equally important conflicting interests in society.
Keywords
trademark,
freedom of expression,
parody,
international trademark law,
comparative law
Publication Date
February, 2007
Citation Information
Katja G Weckstroem. "The Lawfulness of Criticizing Big Business: Comparing Approaches to the Balancing of Societal Interests behind Trademark Protection"
ExpressO
(2007)
Available at: http://works.bepress.com/katja_weckstroem/1/