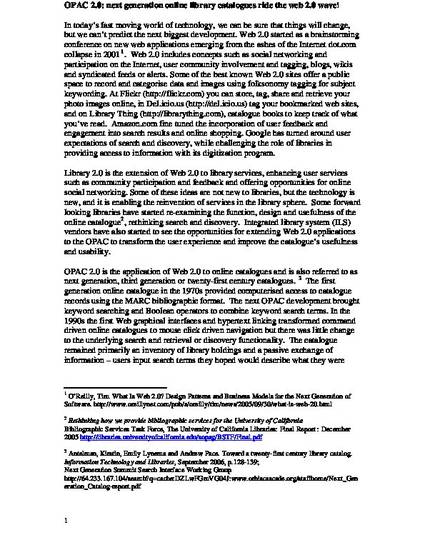 Article
OPAC 2.0: Next generation online library catalogues ride the Web 2.0 wave!
Online Currents
Publication Date
1-1-2007
Abstract
In the fast moving world of technology, we can be sure that things will change, but we can't predict the next big development. Web 2.0 started as a brainstorming conference on new web applications emerging from the ashes of the internet dot.com collapse in 2001. Web 2.0 includes concepts such as social networking and participation on the internet, user community involvement and tagging, blogs, wikis and syndicated feeds or alerts. Some of the best-known Web 2.0 sites offer a public space to record and categorise data and images using folksonomy tagging for subject keywording. At Flickr (http://flickr.com) you can store, tag, share and retrieve your photo images online, in Del.icio.us (http://del.icio.us) tag your bookmarked websites and, on Library Thing (http://librarything.com), catalogue books to keep track of what you've read. Amazon.com has fine-tuned the incorporation of user feedback and engagement into search results and online shopping. Google has turned around user expectations of search and discovery, while challenging the role of libraries in providing access to information with its digitisation program. Library 2.0 is the extension of Web 2.0 to library services, enhancing user services such as community participation and feedback and offering opportunities for online social networking. Some of these ideas are not new to libraries, but the technology is new, and it is enabling the reinvention of services in the library sphere. A few forward looking libraries started re-examining the function, design and usefulness of the online catalogue, rethinking search and discovery. Integrated library system (ILS) vendors also started to see the opportunities for extending Web 2.0 applications to the OPAC to transform the user experience and improve the catalogue's usefulness and usability. OPAC 2.0 is the application of Web 2.0 technologies and ideas to online catalogues. These developments are referred to as next generation, third generation or 21st century catalogues.
Citation Information
Post-print of: Wilson, K 2007, 'OPAC 2.0: Next generation online library catalogues ride the Web 2.0 wave!,
Online Currents
, vol. 21 no. 10, pp. 406-413.