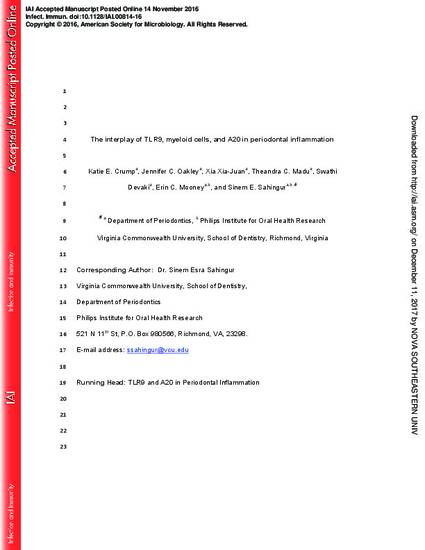 Article
The Interplay of TLR9, Myeloid Cells, and A20 in Periodontal Inflammation
Infection and Immunity
Publication Date
11-14-2016
Abstract
TLR9 deficient (TLR9-/-) mice are resistant to periodontitis, a disease characterized by a dysbiotic microbiota and deregulated immune response resulting in tooth loss and various systemic conditions. However, the mechanisms and biological pathways by which TLR9 instigates periodontal inflammation are yet to be identified. In a ligature-induced model of periodontitis, we demonstrate TLR9-/- mice exhibited significantly less alveolar bone loss compared to their wild-type (WT) counterparts. Consistent with the disease phenotype, gingival tissues showed significantly more inflammatory cell infiltrate in the WT ligated but not in the TLR9-/- ligated mice compared to their unligated controls. Peritoneal infection model using Porphymonas gingivalis, a keystone pathogen for periodontitis, revealed reduced neutrophils in TLR9-/- mice on day 1 post infection compared to WT mice. Transcriptomics analyses showed increased A20(TNFAIP3) expression, an inhibitor of NF-kappa B pathway and a negative regulator of TLR signaling, in ligated TLR9-/- gingival tissues compared to WT. Ex vivo, TLR9-/- bone marrow derived macrophages produced more A20 compared to WT cells following P. gingivalis challenge. Clinically, A20 was modestly upregulated in human gingival tissues from chronic periodontitis patients further confirming the biological relevance of A20 in periodontal inflammation. We conclude that TLR9 modulates periodontal disease progression at both cellular and molecular levels and identify A20 as a novel downstream signaling molecule in the course of periodontal inflammation. Understanding the regulation of the TLR9 signaling pathway and the involvement of A20 as a limiting factor of inflammation will uncover alternative therapeutic targets to treat periodontitis and other chronic inflammatory diseases.
Citation Information
Katie E. Crump, Jennifer C. Oakley, Xia Xia-Juan, Theandra C. Madu, et al.. "The Interplay of TLR9, Myeloid Cells, and A20 in Periodontal Inflammation"
Infection and Immunity
(2016) p. 1 - 41 ISSN: 0019-9567
Available at: http://works.bepress.com/katie-crump/10/