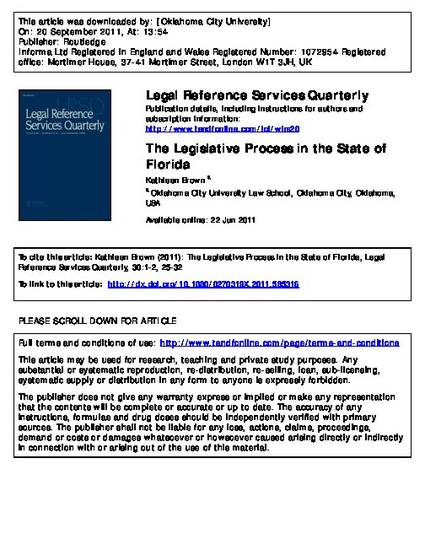 Article
The Legislative Process in the State of Florida
30 Legal Reference Services Quarterly 25 (2011)
Abstract
Historically, Florida failed to retain legislative history resources because the Governor was disproportionately involved in the law-making process, the view materials were not very important, and the lack of materials limited their early use for exploration of legislative intent. Once resources became more readily available, Florida court opinions began to explore when legislative history should be introduced as evidence of intent, what materials would be admissible, and how much weight the legislative resources should be afforded. Today, although Florida still has some issues with broad accessibility of historical legislative history material, the Florida courts have acknowledged there are times when these materials need to be considered in determining the proper interpretation of Florida statutes.
Citation Information
Katie Brown. "The Legislative Process in the State of Florida"
30 Legal Reference Services Quarterly 25
(2011)
Available at: http://works.bepress.com/katie-brown/4/