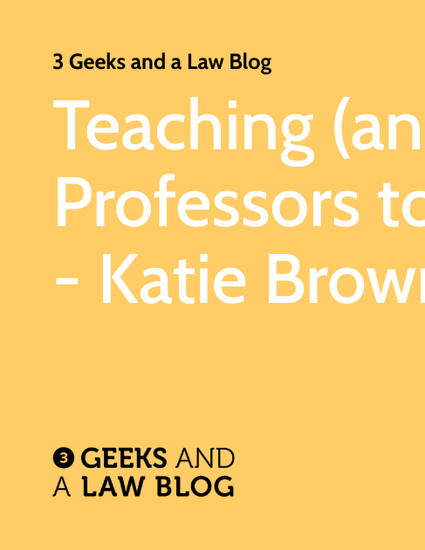 Other
Teaching (and Pressuring) Law Professors to Teach Technology
(2022)
Abstract
For the first time ever, we have a guest co-host this week while Marlene wears her fancy sneakers around ILTACon seeking answers to our Crystal Ball question.
Katie Brown
, Associate Dean for Information Resources at Charleston School of Law is on a mission to increase the teaching of practical technology skills to law students. In her view, law professors "are required to educate people so that they can go out into the practice and successfully do that. And so beyond just, rule 1.1 with legal technology and having that competency, for us as law schools, I think we have an ethical obligation to be teaching legal technology." This approach needs to be embedded into the Law School's culture, because it costs money, time, and effort to do correctly.
In upcoming research collected with University of Connecticut Law's 
Jessica de Perio Wittman
, Brown and de Perio Wittman calculated that on average, law students have less than 4 classes during their entire time in law school that have some aspect of teaching them the technology skills in that topic. Brown wants to see that number rise.
Keywords
Ethics,
ABA,
Technology,
Legal Technology,
Geek in Review
Publication Date
Summer August 24, 2022
Citation Information
katie brown. "Teaching (and Pressuring) Law Professors to Teach Technology" (2022)
Available at: http://works.bepress.com/katie-brown/15/