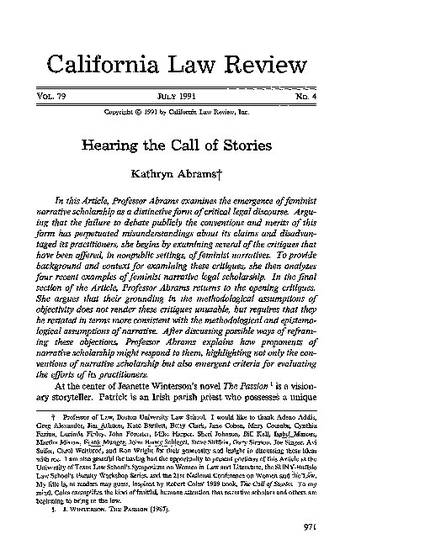 Article
Hearing the Call of Stories
California Law Review
Publication Date
1-1-1991
Abstract
In this Article, Professor Abrams examines the emergence of feminist narrative scholarship as a distinctive form of critical legal discourse. Arguing that the failure to debate publicly the conventions and merits of this form has perpetuated misunderstandings about its claims and disadvantaged its practitioners, she begins by examining several of the critiques that have been offered, in nonpublic settings, of feminist narratives. To provide background and context for examining these critiques, she then analyzes four recent examples of feminist narrative legal scholarship. In the final section of the Article, Professor Abrams returns to the opening critiques. She argues that their grounding in the methodological assumptions of objectivity does not render these critiques unusable, but requires that they be restated in terms more consistent with the methodological and epistemological assumptions of narrative. After discussing possible ways of refraining these objections, Professor Abrams explains how proponents of narrative scholarship might respond to them, highlighting not only the conventions of narrative scholarship but also emergent criteria for evaluating the efforts of its practitioners.
Citation Information
Kathryn Abrams. "Hearing the Call of Stories"
California Law Review
Vol. 79 (1991) p. 971
Available at: http://works.bepress.com/kathryn_abrams/106/