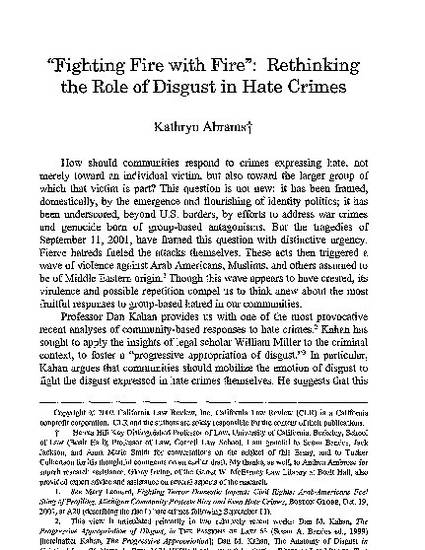 Article
Fighting Fire with Fire: Rethinking the Role of Disgust in Hate Crimes
California Law Review
Publication Date
10-1-2002
Abstract
Analyzes the community-based responses to hate crimes in the U.S. Discussion on the thesis regarding disgust as a response to hate crimes; Strategies used by Arab and Muslim Americans in response to crimes; Role of disgust in enforcement against group-based violence; Background on the cognitive component of disgust; Efforts made by gays and lesbians to make the streets safer.
Citation Information
Kathryn Abrams. "Fighting Fire with Fire: Rethinking the Role of Disgust in Hate Crimes"
California Law Review
Vol. 90 (2002) p. 1423
Available at: http://works.bepress.com/kathryn_abrams/100/