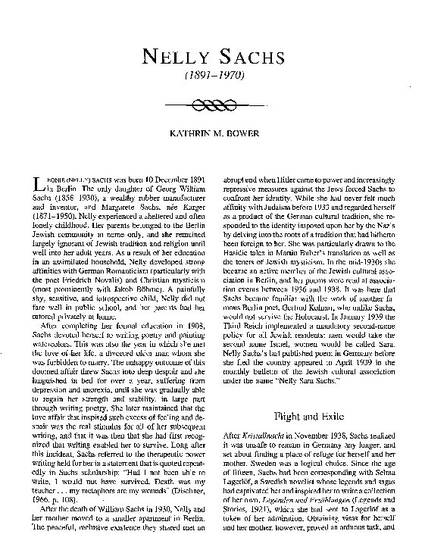 Popular Press
Nelly Sachs (1891-1970)
Languages, Literatures, and Cultures Faculty Publications
Publication Date
1-1-2003
Abstract
Leonie (Nelly) Sachs was born 10 December 1891 in Berlin. The only daughter of Georg William Sachs (1858-1930), a wealthy rubber manufacturer and inventor, and Margarete Sachs, née Karger (1871-1950), Nelly experienced a sheltered and often lonely childhood. Her parents belonged to the Berlin Jewish community in name only, and she remained largely ignorant of Jewish tradition and religion until well into her adult years. As a result of her education in an assimilated household, Nelly developed strong affinities with German Romanticism (particularly with the poet Friedrich Novalis) and Christian mysticism (most prominently with Jakob Böhme). A painfully shy, sensitive, and introspective child, Nelly did not fare well in public school, and her parents had her tutored privately at home.
Citation Information
Bower, Kathrin M. "Nelly Sachs." In Holocaust Literature: An Encyclopedia of Writers and Their Work, edited by S. Lillian Kremer, 1067-074. Vol. 2. New York, NY: Routledge, 2003.