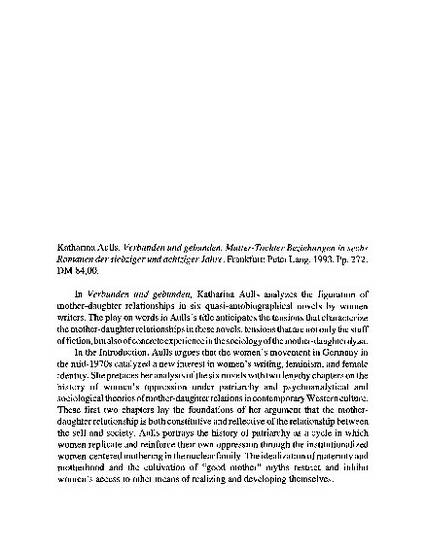 Other
Verbunden und gebunden. Mutter-Tochter Beziehungen in sechs Romanen der siebziger und achtziger Jahre. (Book Review)
Languages, Literatures, and Cultures Faculty Publications
Publication Date
1-1-1997
Abstract
In Verbunden und gebunden, Katharina Aulls analyzes the figuration of mother-daughter relationships in six quasi-autobiographical novels by women writers. The play on words in Aulls's title anticipates the tensions that characterize the mother-daughter relationships in these novels, tensions that are not only the stuff of fiction, but also of concrete experience in the sociology of the mother-daughter dyad.
Citation Information
Bower, Kathrin M. Review of Verbunden Und Gebunden. Mutter-Tochter Beziehungen in sechs Romanen der siebziger und achtziger Jahre by Katharina Aulls. German Studies Review 20, no. 1 (1997): 196-97.