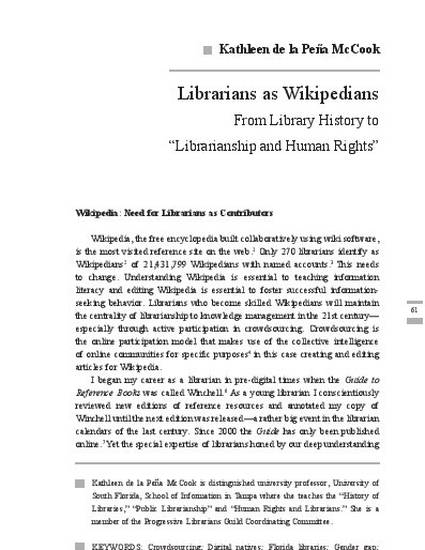 Article
Librarians as Wikipedians: From Library History to "Librarianship and Human Rights"
Progressive Librarian
Publication Date
7-1-2014
Keywords
Crowdsourcing,
Digital natives,
Florida libraries,
Gender gap,
Human rights,
Information-seeking behavior,
Information literacy,
Knowledge management,
Librarian biography,
Librarians as Wikipedians,
Library education,
Library history,
University of South Florida,
School of Information,
Wikipedia
Abstract
Wikipedia, the free encyclopedia built collaboratively using wiki software, is the most visited reference site on the web. Only 270 librarians identify as Wikipedians of 21,431,799 Wikipedians with named accounts. This needs to change. Understanding Wikipedia is essential to teaching information literacy and editing Wikipedia is essential to foster successful information-seeking behavior. Librarians who become skilled Wikipedians will maintain the centrality of librarianship to knowledge management in the 21st century—especially through active participation in crowdsourcing. Crowdsourcing is the online participation model that makes use of the collective intelligence of online communities for specific purposes in this case creating and editing articles for Wikipedia.
Citation / Publisher Attribution
Progressive Librarian, issue 42, p. 61-81
Citation Information
Kathleen de la Peña McCook. "Librarians as Wikipedians: From Library History to "Librarianship and Human Rights""
Progressive Librarian
Iss. 42 (2014) p. 61 - 81
Available at: http://works.bepress.com/kathleendelapena_mccook/25/