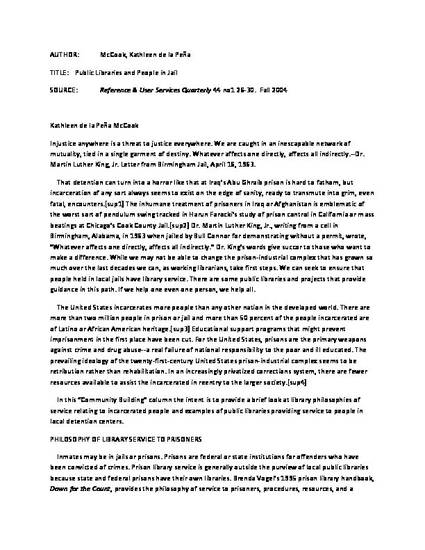 Article
Public Libraries and People in Jail
Reference and User Services Quarterly
Publication Date
1-1-2004
Keywords
Jails,
Prison libraries,
Prisoners,
Public libraries,
Library patron services,
Correctional institutions,
Criminal punishment,
Libraries,
Communities,
Law libraries
Abstract
Injustice anywhere is a threat to justice everywhere. We are caught in an inescapable network of mutuality, tied in a single garment of destiny. Whatever affects one directly, affects all indirectly.--Dr. Martin Luther King, Jr. Letter from Birmingham Jail, April 16, 1963. That detention can turn into a horror like that at Iraq's Abu Ghraib prison is hard to fathom, but incarceration of any sort always seems to exist on the edge of sanity, ready to transmute into grim, even fatal, encounters.[sup1] The inhumane treatment of prisoners in Iraq or Afghanistan is emblematic of the worst sort of pendulum swing tracked in Harun Farocki's study of prison control in California or mass beatings at Chicago's Cook County Jail.[sup2] Dr. Martin Luther King, Jr., writing from a cell in Birmingham, Alabama, in 1963 when jailed by Bull Connor for demonstrating without a permit, wrote, "Whatever affects one directly, affects all indirectly." Dr. King's words give succor to those who want to make a difference. While we may not be able to change the prison-industrial complex that has grown so much over the last decades we can, as working librarians, take first steps. We can seek to ensure that people held in local jails have library service. There are some public libraries and projects that provide guidance in this path. If we help one even one person, we help all. The United States incarcerates more people than any other nation in the developed world. There are more than two million people in prison or jail and more than 50 percent of the people incarcerated are of Latino or African American heritage.[sup3] Educational support programs that might prevent imprisonment in the first place have been cut. For the United States, prisons are the primary weapons against crime and drug abuse--a real failure of national responsibility to the poor and ill-educated. The prevailing ideology of the twenty-first-century United States prison-industrial complex seems to be retribution rather than rehabilitation. In an increasingly privatized corrections system, there are fewer resources available to assist the incarcerated in reentry to the larger society. [sup 4] In this "Community Building" column the intent is to provide a brief look at library philosophies of service relating to incarcerated people and examples of public libraries providing service to people in local detention centers.
Citation / Publisher Attribution
Reference & User Services Quarterly, v. 44, no 1, p. 26-30
Citation Information
Kathleen de la Peña McCook. "Public Libraries and People in Jail"
Reference and User Services Quarterly
Vol. 44 Iss. 1 (2004) p. 26 - 30
Available at: http://works.bepress.com/kathleendelapena_mccook/19/