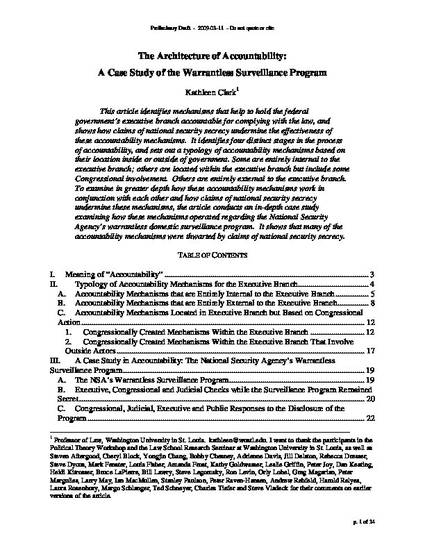 Unpublished Paper
The Architecture of Accountability: A Case Study of the Warrantless Surveillance Program
ExpressO (2009)
Abstract
Several Democratic members of Congress and human rights organizations are calling for establishing a "truth commission" to investigate the Bush Administration's interrogation and warrantless surveillance policies. Others advocate criminal investigation and even prosecution of Bush Administration officials who authorized these policies. Republican legislators and some commentators oppose any commission or criminal investigation of Bush Administration policies, arguing that they would constitute an attempt by those currently in power to criminalize their policy differences with their predecessors. Is it necessary or appropriate to hold Bush Administration officials accountable for their actions through a criminal or commission investigation? This article contributes to the debate on this issue by placing it in a broader theoretical context, and examining the degree to which other accountability mechanisms operated effectively during the Bush Administration. Commission and criminal investigations are just two of the many mechanisms that can hold can the executive branch – and its officials -- accountable for violations of the law. This article explains, on the level of theory, what is meant by legal accountability, and it identifies four distinct stages of accountability. On a more concrete level, it identifies some of the most important mechanisms that hold the U.S. executive branch accountable for violations of the law, and sets out a typology of those mechanisms. The article then examines how those mechanisms operated with respect to the Bush Administration's warrantless surveillance of domestic communications. While at least one of those mechanisms -- the legal opinion function -- eventually held the executive branch in check, most of the mechanisms did not operate effectively in connection with the warrantless surveillance program. The executive branch's claims of national security secrecy undermined the effectiveness of these accountability mechanisms.
Publication Date
March 12, 2009
Citation Information
Kathleen Clark. "The Architecture of Accountability: A Case Study of the Warrantless Surveillance Program"
ExpressO
(2009)
Available at: http://works.bepress.com/kathleen_clark/2/