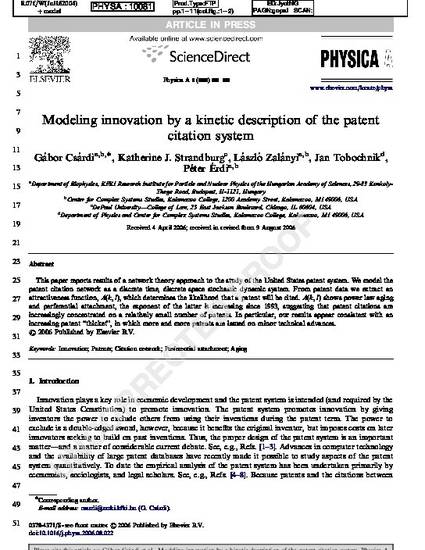 Article
Modeling Innovation by a Kinetic Description of the Patent Citation System
Physica A (2007)
Abstract
This paper reports results of a network theory approach to the study of the United States patent system. We model the patent citation network as a discrete time, discrete space stochastic dynamic system. From patent data we extract an attractiveness function, A(k, l), which determines the likelihood that a patent will be cited. A(k, l) shows power law aging and perferential attachment, the exponent of the latter is increasing since 1993, suggesting that patent citations are increasingly concentrated on a relatively small number of patents. In particular, our results appear consistent with an increasing patent "thicket", in which more and more patents are issued on minor technical advances.
Citation Information
Gabor Csardi, Katherine J. Strandburg, Jan Tobochnik, Peter Erdi, and Laszlo Zalanyi.
"Modeling Innovation by a Kinetic Description of the Patent Citation System"
374
PHYSICA A
783 (2007). Available at: http://works.bepress.com/katherine_strandburg/