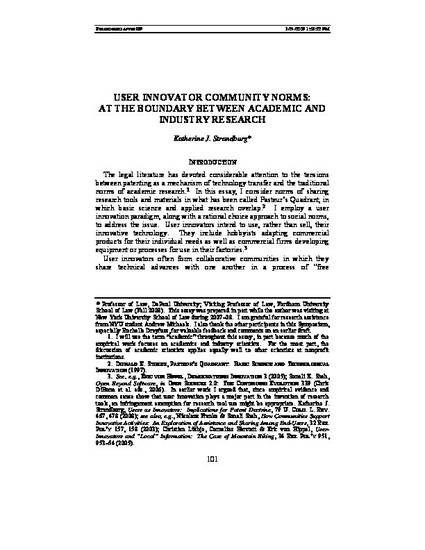 Article
User Innovator Community Norms at the Boundary Between Academic and Industrial Research
Fordham Law Review (2009)
Abstract
In this essay, I consider norms of sharing research tools and materials in what has been called Pasteur's Quadrant, in which basic science and applied research overlap. I employ a user innovation paradigm, along with a rational choice approach to social norms, to address the issue. The convergence of academic research with commercial interests has two different types of consequences for sharing norms. First, a research tool or material developed in a nonprofit research context may be a dual-purpose innovation with both research and nonresearch uses. Thus, for example, a genetic assay may be useful in research and as a clinical diagnostic test; many chemicals are used in the laboratory and in industrial processes; many imaging techniques have laboratory and commercial applications; and so forth. Second, the overlap of research interests between nonprofit and industry scientists means that the user community for research tools and materials in Pasteur's Quadrant is more diverse than in areas of purely basic research. Both of these types of overlap affect the robustness of research tool sharing norms.
The social norm analysis presented here predicts that the viability and robustness of practices of sharing research tools and materials depends on the differing preferences of academic and industry scientists, on whether a tool is do-it-yourself or requires access to a specific material, and on whether the tool is a garden variety research tool or a dual-purpose tool with a significant nonresearch market. To understand sharing practices, empirical studies should seek to disentangle these variables. Policy prescriptions for enhancing sharing also should account for these factors.
Keywords
intellectual property,
patent,
technology transfer
Citation Information
Katherine J. Strandburg. "User Innovator Community Norms at the Boundary Between Academic and Industrial Research"
Fordham Law Review
Vol. 77 (2009)
Available at: http://works.bepress.com/katherine_strandburg/22/