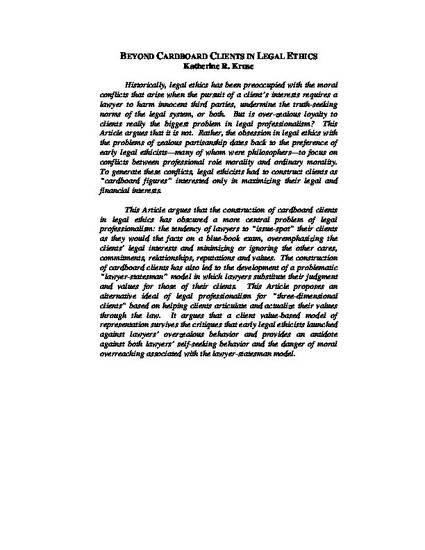 Unpublished Paper
Beyond Cardboard Clients in Legal Ethics
ExpressO (2009)
Abstract
Historically, legal ethics has been preoccupied with the moral conflicts that arise when the pursuit of a client's interests requires a lawyer to harm innocent third parties, undermine the truth-seeking norms of the legal system, or both. But is over-zealous loyalty to clients really the biggest problem in legal professionalism? This Article argues that it is not. Rather, the obsession in legal ethics with the problems of zealous partisanship dates back to the preference of early legal ethicists—many of whom were philosophers—to focus on conflicts between professional role morality and ordinary morality. To generate these conflicts, legal ethicists had to construct clients as "cardboard figures" interested only in maximizing their legal and financial interests. This Article argues that the construction of cardboard clients in legal ethics has obscured a more central problem of legal professionalism: the tendency of lawyers to "issue-spot" their clients as they would the facts on a blue-book exam, overemphasizing the clients' legal interests and minimizing or ignoring the other cares, commitments, relationships, reputations and values. The construction of cardboard clients has also led to the development of a problematic "lawyer-statesman" model in which lawyers substitute their judgment and values for those of their clients. This Article proposes an alternative ideal of legal professionalism for "three-dimensional clients" based on helping clients articulate and actualize their values through the law. It argues that a client value-based model of representation survives the critiques that early legal ethicists launched against lawyers' overzealous behavior and provides an antidote against both lawyers' self-seeking behavior and the danger of moral overreaching associated with the lawyer-statesman model.
Keywords
legal ethics,
morality,
lawyers,
legal profession,
ethics
Publication Date
March 17, 2009
Citation Information
Katherine R Kruse. "Beyond Cardboard Clients in Legal Ethics"
ExpressO
(2009)
Available at: http://works.bepress.com/katherine_kruse/2/