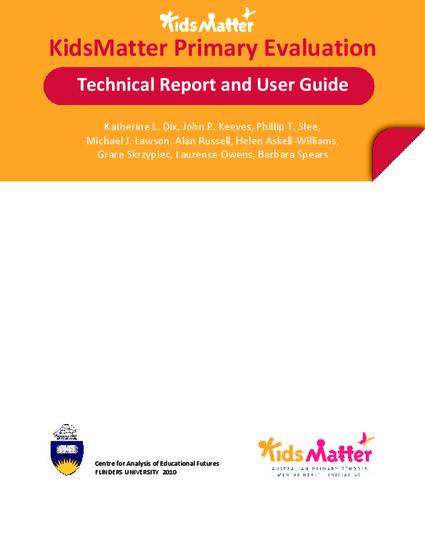 Book
KidsMatter Primary Evaluation: Technical Report and User Guide
Student learning processes
Publication Date
1-1-2010
Abstract
This Technical Report and User Guide is the culmination of an evaluation investigating the effectiveness of KidsMatter Primary, involving over 5000 participants in 100 Australian primary schools over a two year period. It brings together an extensive data gathering exercise and presents technical aspects of the statistical and thematic analyses used in the KidsMatter Evaluation Final. The series of data files and the analysis in which the files have been used, are from the KidsMatter Evaluation Whole Cohort Longitudinal Study (predominantly quantitative data) and the Stakeholder and Student Voice Studies (qualitative data), in addition to data obtained from Project Officers and school leadership. The broad purpose of the study was to evaluate the effectiveness of the KidsMatter Initiative Stage 1 Pilot Phase, which was a school‐based national mental health promotion prevention and early intervention initiative.
Subjects
Mental health programs, Primary schools, Health promotion, Well being, Prevention, Early intervention, Program effectiveness, Longitudinal studies, Qualitative research, Quantitative research
Place of Publication
Adelaide
Publisher
Shannon Research Press
Citation Information
Dix K.L., Keeves J.P., Slee P.T., Lawson M.J., Russell A., Askell‐Williams H., Owens L., Skrzypiec G., Spears B. (2010). KidsMatter Primary Evaluation Technical Report and User Guide. Adelaide: Shannon Research Press.