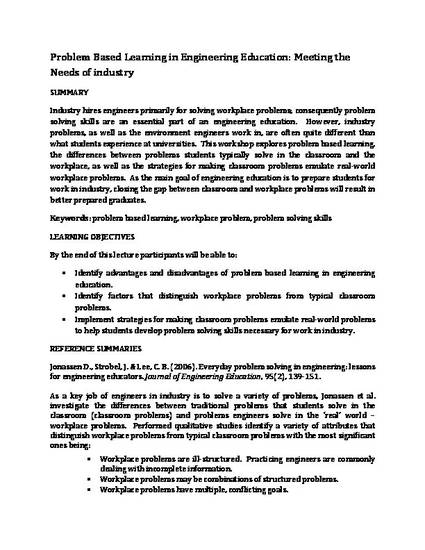 Article
Problem Based Learning in Engineering Education: Meeting the needs of industry
Teaching Innovation Projects
Summary
Industry hires engineers primarily for solving workplace problems; consequently problem solving skills are an essential part of an engineering education. However, industry problems, as well as the environment engineers work in, are often quite different than what students experience at universities. This workshop explores problem based learning, the differences between problems students typically solve in the classroom and the workplace, as well as the strategies for making classroom problems emulate real-world workplace problems. As the main goal of engineering education is to prepare students for work in industry, closing the gap between classroom and workplace problems will result in better prepared graduates.
Creative Commons License
Creative Commons Attribution 3.0
Citation Information
Katarina Grolinger. "Problem Based Learning in Engineering Education: Meeting the needs of industry"
Available at: http://works.bepress.com/katarina_grolinger/3/