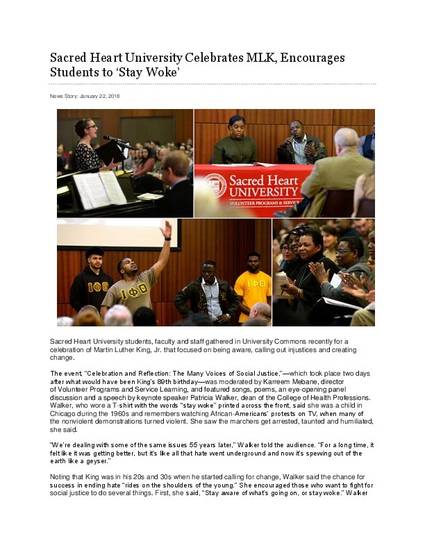 Popular Press
Sacred Heart University Celebrates MLK, Encourages Students to 'Stay Woke'
Sacred Heart University News Story (2018)
Abstract
Sacred Heart University students, faculty and staff gathered in University Commons recently for a celebration of Martin Luther King, Jr. that focused on being aware, calling out injustices and creating change.
The event, "Celebration and Reflection: The Many Voices of Social Justice,"—which took place two days after what would have been King's 89th birthday—was moderated by Karreem Mebane,
director of Volunteer Programs and Service Learning.
Publication Date
January 22, 2018
Citation Information
Sacred Heart University Celebrates MLK, Encourages Students to 'Stay Woke'. (2018, January 22). Sacred Heart University News Story.