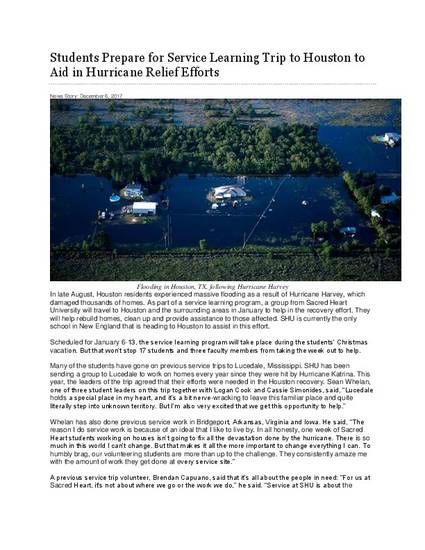 Popular Press
Students Prepare for Service Learning Trip to Houston to Aid in Hurricane Relief Efforts
Sacred Heart University News Story (2017)
Abstract
In late August, Houston residents experienced massive flooding as a result of Hurricane Harvey, which damaged thousands of homes. As part of a service learning program, a group from Sacred Heart University will travel to Houston and the surrounding areas in January to help in the recovery effort. They will help rebuild homes, clean up and provide assistance to those affected. 
Keywords
Service learning,
Hurricane Harvey,
Houston
Publication Date
December 6, 2017
Citation Information
Students Prepare for Service Learning Trip to Houston to Aid in Hurricane Relief Efforts (6 December 2017). Sacred Heart University News Story.