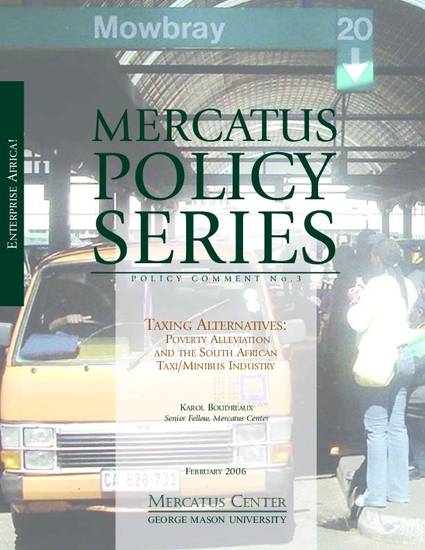 Article
Taxing Alternatives: Poverty Alleviation and the South African Taxi/Minibus Industry
Mercatus Policy Series (2006)
Abstract
South Africa's transporation landscape is a legacy of apartheid. Apartheid-era laws forcibly moved black South Africans out of city centers to surrounding townships. In rural areas, black South Africans were moved off valuable farmland and onto marginally productive homelands. Laws and regulations limiting employment opportunities meant that black citizens lived far from work. Under the National Party government, the ability to serve people who wanted to travel from home to work or home to shopping areas, etc. was severely resitricted. So too was the ability to travel. The minibus industry arose in response to these restrictions. It began as a largely illegal activity and spread across the country to meet a strong, and pent up demand, for private transport--transport free of search by the notorious South African police. While minibus taxis continue to serve 65% of the public-transportation taking public in South Africa, the industry suffers from its legacy of illegality and from a poorly executed deregulation. This paper analyzes the role the industry has played for consumers; it investigates the relationship between taxi violence and poorly defined and defendable rights to routes, and concludes that the ANC government's policy to address these problems, a Taxi Recapitalisation Programme, will impose significants costs on consumers, and small-scale taxi entrepreneurs while also providing incentives to pirate taxis to continue to operate.
Keywords
South Africa,
taxis,
incentives,
property rights,
recapitalization,
violence,
regulation
Publication Date
March, 2006
Citation Information
Karol C. Boudreaux. "Taxing Alternatives: Poverty Alleviation and the South African Taxi/Minibus Industry"
Mercatus Policy Series
Vol. Policy Comment No. 3 (2006)
Available at: http://works.bepress.com/karol_boudreaux/7/