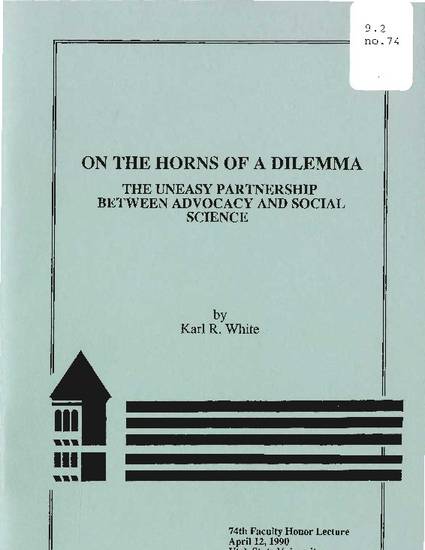 Presentation
On the Horns of a Dilemma, The Uneasy Partnership Between Advocacy and Social Science
Utah State University Faculty Honor Lectures
Document Type
Presentation
Publisher
The Faculty Association, Utah State University
Publication Date
4-12-1990
Abstract
Most of us living in the United States enjoy the highest standard of living in the history of the world. Taken together, the technological, cultural, recreational, medical, and educational opportunities of our society are unsurpassed. But we also face an abundance of critical social problems. Widely quoted and seemingly accurate statistics which describe such problems include, but are not limited to the following.
Citation Information
Karl R. White. "On the Horns of a Dilemma, The Uneasy Partnership Between Advocacy and Social Science"
Utah State University Faculty Honor Lectures
(1990)
Available at: http://works.bepress.com/karl_white/250/