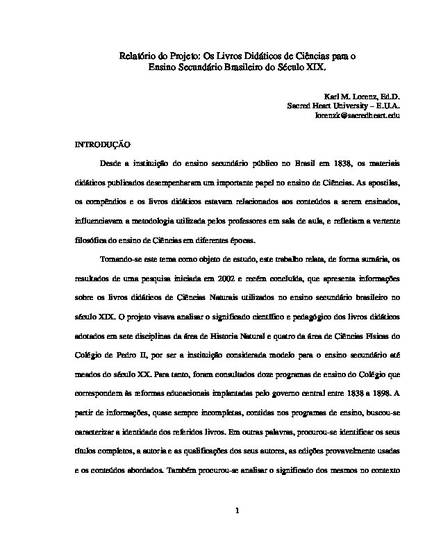 Unpublished Paper
Relatório do Projeto: Os Livros Didáticos de Ciências para o Ensino Secundário Brasileiro do Século XIX [Project Report: Science Textbooks in Brazilian Secondary Education during the Nineteenth Century]
First International Symposium on Textbooks, University of São Paulo, Brazil (2007)
Abstract
Este trabalho apresenta um sumario dos objetivos, metodologia, e resultados preliminares de uma projeto de pesquisa, iniciada em 2002, que identifica, descreve e contextualiza 32 textos escolares de ciência adotados no Colégio de Pedro II, a instituição secundário modelo no Brasil durante o século XIX.
The paper presents a summary of the objectives, methodology and preliminary results of a research project, initiated in 2002, that identifies, describes and contextualizes 32 science textbooks adopted in the College Pedro II, the model secondary institution in Brazil during the XIX century.
Citation Information
Karl M Lorenz. "Relatório do Projeto: Os Livros Didáticos de Ciências para o Ensino Secundário Brasileiro do Século XIX [Project Report: Science Textbooks in Brazilian Secondary Education during the Nineteenth Century]"
First International Symposium on Textbooks, University of São Paulo, Brazil
(2007)
Available at: http://works.bepress.com/karl_lorenz/41/