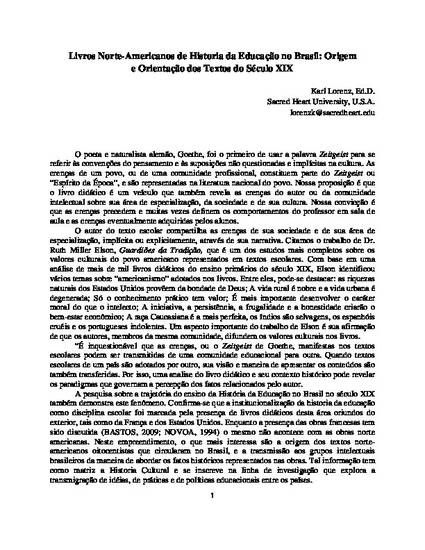 Presentation
Livros Norte-Americanos de Historia da Educação no Brasil: Origem e Orientação dos Textos do Século XIX [American Books on the History of Education in Brazil: The Origin and Orientation of Texts Published in the XIX Century]
VI Brazilian Congress of the History of Education, Vitória, Brazil (2011)
Abstract
A pesquisa sobre o a trajetória do ensino da História da Educação demonstra que, no Brasil, sua institucionalização como disciplina escolar foi marcada por ideias oriundas de diversos países, entre eles a França e os Estados Unidos. Este trabalho analisa as vertentes de pensamento sobre a história educacional, veiculados nos livros de "Historia Geral da Educação", de autores norte americanos, que circularam no Brasil no século XIX e no início do século XX. Constata-se que existiam duas abordagens principais nestas obras. A primeira apresenta a historia da educação por meio das ideias de eminentes pensadores do passado com respeito à natureza, importância e as metodologias do ensino. A segunda abordagem se fundamenta na proposição que os pensamentos educacionais do passado e do presente revelam o papel da Providencia Divina nas atividades humanas. O estudo sugere que estas duas perspectivas influenciaram o ensino da história da educação no Brasil.
Research on the evolution of the teaching of the History of Education shows that, in Brazil, this school subject was affected by ideas originating in different countries, among them France and the United States. This paper analyzes the representation of educational history in books on the "General History of Education," written by American authors, that circulated in Brazil in the XIX century and the beginning of the XX century. It was found that these books approached the subject matter in one of two ways. The first portrays the history of education as the ideas of eminent thinkers of the past as they relate to the nature, importance and methods of teaching. The second approach is based on the proposition that the educational ideas of the past and the present reveal the hand of Divine Providence in human affairs. This study suggests that these two perspectives influenced the teaching of the history of education in Brazil.
Publication Date
May, 2011
Citation Information
Lorenz, K. Livros norte-americanos de história da educação no Brasil: origem e orientação dos textos do século XIX. In: Congresso Brasileiro de História da Educação, 5, 2008, Aracajo.
Anais
... Aracaju, Brasil, nov. 2008 (CD-ROM).