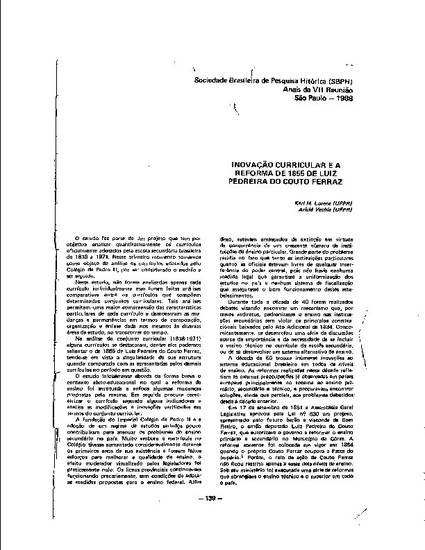 Presentation
Inovação Curricular e a Reforma de 1855 de Luiz Pedreira do Couto Ferraz [Curricular Innovation and the 1855 Reform of Luiz Pedreira do Couto Ferraz]
VII Meeting of the Brazilian Society of Historical Research, São Paulo, Brazil (1988)
Abstract
A reforma educacional de 1855 proposto pelo Ministro Couto Ferraz marcadamente alterou o programam de ensino do Colégio de Pedro II, a instituição modelo do Império, por dividir-nos em dois ciclos: os Estudos de Primeira Classe e os estudos de Segundo Classe. O primeiro ciclo, de quatro anos, foi dirigido aos alunos que queriam terminar seus estudos e receber um certificado de conclusão que lhes daria o direito de ingressar em um dos institutos de formação técnica, sem prestar novos exames. Os alunos que continuassem o segundo ciclo, com duração de três anos, receberiam ao final do sétimo ano o titulo e Bacharel em Letras que lhes garantira o direito de matricula em qualquer instituição de ensino superior. Este trabalho descreve as modificações na composição e organização do currículo e as ênfases dada às diversas disciplinas do programa.
The educational reform of 1855 proposed by Minister Couto Ferraz significantly modified the program of studies of the College Pedro II, the model institution of the empire, by dividing it into two cycles: the Studies of the First Class and the Studies of the Second Class. The first cycle, with a duration of four years, was directed to students who wanted to complete their coursework and receive a certificate that allowed them to enroll in any of the technical schools. The students who continued and completed their studies in the second cycle, with a duration of three years, received the title of Bachelor of Arts, which guaranteed them the right to enroll in any of the higher education institutions in the country. This paper discusses changes in the composition and organization of the curriculum, and the emphases given to the various disciplines in the program.
Keywords
Currículo,
Reforma Educacional,
Educação Brasileira,
Ensino de Ciências,
Ensino de Humanidades,
Couto Ferraz,
Curriculum,
Educational Reform,
Brazilian Education,
Science teaching,
Humanities teaching
Citation Information
Lorenz, Karl M. & Vechia, Ariclê. Inovação Curricular e a Reforma de 1855 de Luiz Pedreira do Couto Ferraz. In:
Anais da VII Reunião Reunião da SBPH.
São Paulo, Brasil: Sociedade Brasileira de Pesquisa Histórica, 1988, p. 139-142.