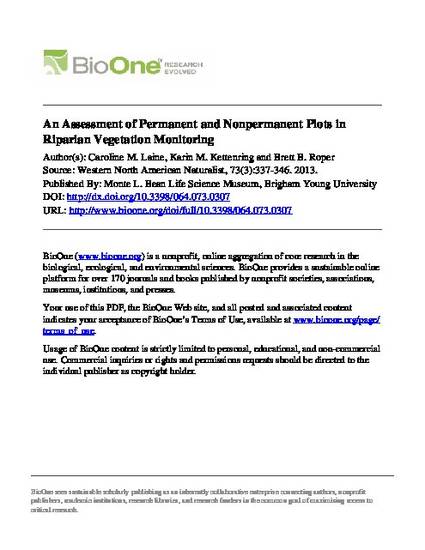 Article
An Assessment of Permanent and Nonpermanent Plots in Riparian Vegetation Monitoring
Western North American Naturalist
Publisher
Brigham Young University, Monte L Bean Life Science Museau
Publication Date
11-1-2013
DOI
doi: http://dx.doi.org/10.3398/064.073.0307
Abstract
The aim of this research was to determine whether permanent and nonpermanent plots for describing riparian plant communities would yield the same results. This research was conducted at 4 streams in central eastern Idaho. Permanent and nonpermanent greenline plots (first perennial vegetation adjacent to stream) were sampled repeatedly from June to October 2010, and we assessed differences between plot types by comparing species richness, wetland indicator rating, and percent cover of live vegetation, forbs, graminoids, litter/moss, and bare ground. We found few statistically significant differences between permanent and nonpermanent greenline plots. Because both types of plots yielded similar results, we suggest that nonpermanent plots are a better choice for riparian monitoring because they are defined by their spatial relationship to the stream, rendering a permanent marker unnecessary, and they are also less labor intensive.
Citation Information
Karin M Kettenring, Caroline M. Laine and Brett B. Roper. "An Assessment of Permanent and Nonpermanent Plots in Riparian Vegetation Monitoring"
Western North American Naturalist
Vol. 73 Iss. 3 (2013) p. 337 - 346
Available at: http://works.bepress.com/karin_kettenring/56/