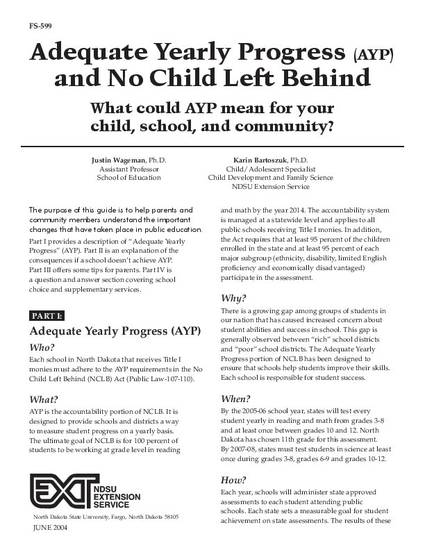 Other
Adequate Yearly Progress (AYP) and No Child Left Behind. What Could AYP Mean for Your Child, School, and Community?
(2004)
Abstract
The purpose of this guide is to help parents and community members understand the important changes that have taken place in public education. Part I provides a description of "Adequate Yearly Progress" (AYP). Part II is an explanation of the consequences if a school doesn't achieve AYP. Part III offers some tips for parents. Part IV is a question and answer section covering school choice and supplementary services.
Keywords
AYP,
progress,
adequate yearly progress,
public education
Publication Date
June 1, 2004
Citation Information
Wageman, J., & Bartoszuk, K. (2004). Adequate yearly progress (AYP) and no child left behind. What could AYP mean for your child, school, and community? NDSU Extension Publication FS-599.
Creative Commons license
This work is licensed under a Creative Commons CC_BY-NC-SA International License.