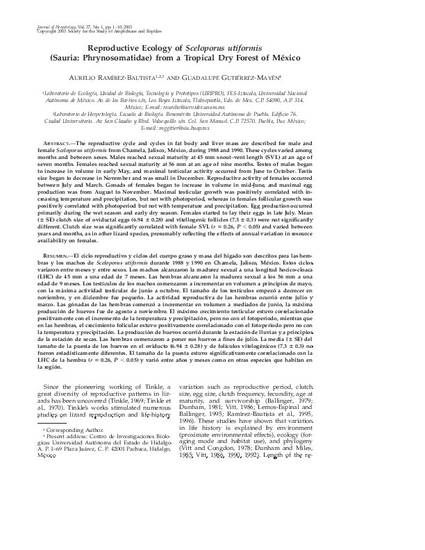 Article
A Quantitative Assessment of Habitat Preferences for the Puerto Rican Terrestrial Frog, Eleutherdoctylus coqui
Journal of Herpetology (2003)
Abstract
We conducted a quantitative analysis of adult and juvenile Eleutherodactylus coqui (coqui) habitat preferences in Puerto Rico. The analysis consisted of two surveys: one to quantify potential habitat and another to quantify habitat use. Coquis were found to use most habitats available to them; however, adults and juveniles preferred different plant species, habitat structural components, and heights from the forest floor. Adult and juvenile coquis had opposite associations with many important plant species in the forest (e.g, Prestoea montana and Heliconia carabea) and habitat structural components. Adults had a negative association with leaves and a positive association with leaf litter. juveniles showed the opposite trend. Adults were more evenly distributed with respect to height than were juveniles, with adults preferring heights around 1.1 m and juveniles preferring heights closer to the forest floor. The quantitative survey technique for determining habitat preferences used in this study generally confirmed coqui habitat preferences known from qualitative assessments.
Keywords
selection,
patterns,
disturbance,
herbivores
Publication Date
March, 2003
Citation Information
Beard, K.H., S. McCullough, and A.K. Eschtruth. 2003. A quantitative assessment of habitat preferences for the Puerto Rican terrestrial frog, Eleutherodactylus coqui. Journal of Herpetology 37(1):10-17.