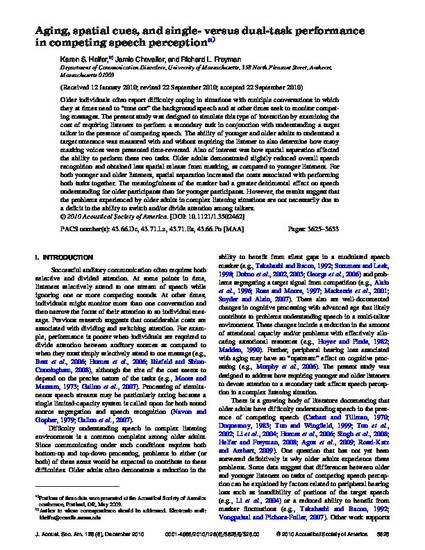 Article
Aging, Spacial Cues, and Single-Versus Dual-Task Performance in Competing Speech Perception
The Journal of the Acoustical Society of America (2010)
Abstract
Older individuals often report difficulty coping in situations with multiple conversations in which they at times need to "tune out" the background speech and at other times seek to monitor competing messages. The present study was designed to simulate this type of interaction by examining the cost of requiring listeners to perform a secondary task in conjunction with understanding a target talker in the presence of competing speech. The ability of younger and older adults to understand a target utterance was measured with and without requiring the listener to also determine how many masking voices were presented time-reversed. Also of interest was how spatial separation affected the ability to perform these two tasks. Older adults demonstrated slightly reduced overall speech recognition and obtained less spatial release from masking, as compared to younger listeners. For both younger and older listeners, spatial separation increased the costs associated with performing both tasks together. The meaningfulness of the masker had a greater detrimental effect on speech understanding for older participants than for younger participants. However, the results suggest that the problems experienced by older adults in complex listening situations are not necessarily due to a deficit in the ability to switch and/or divide attention among talkers.
Publication Date
September, 2010
Citation Information
Karen S Helfer, Jamie Chevalier and Richard L. Freyman. "Aging, Spacial Cues, and Single-Versus Dual-Task Performance in Competing Speech Perception"
The Journal of the Acoustical Society of America
Iss. 128 (2010)
Available at: http://works.bepress.com/karen_helfer/2/