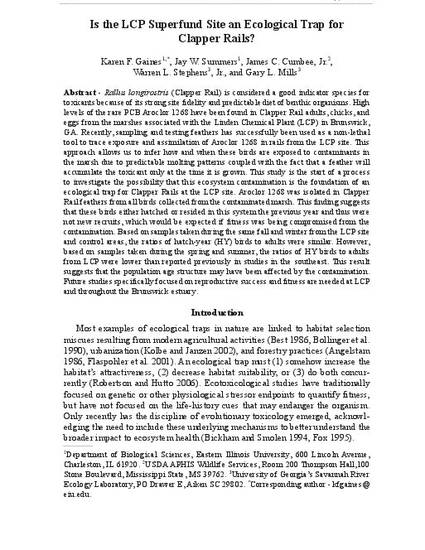 Article
Is the LCP Superfund Site an Ecological Trap for Clapper Rails?
Southeastern Naturalist (2011)
Abstract
Rallus longirostris (Clapper Rail) is considered a good indicator species for toxicants because of its strong site fidelity and predictable diet of benthic organisms. High levels of the rare PCB Aroclor 1268 have been found in Clapper Rail adults, chicks, and eggs from the marshes associated with the Linden Chemical Plant (LCP) in Brunswick, GA. Recently, sampling and testing feathers has successfully been used as a non-lethal tool to trace exposure and assimilation of Aroclor 1268 in rails from the LCP site. This approach allows us to infer how and when these birds are exposed to contaminants in the marsh due to predictable molting patterns coupled with the fact that a feather will accumulate the toxicant only at the time it is grown. This study is the start of a process to investigate the possibility that this ecosystem contamination is the foundation of an ecological trap for Clapper Rails at the LCP site. Aroclor 1268 was isolated in Clapper Rail feathers from all birds collected from the contaminated marsh. This finding suggests that these birds either hatched or resided in this system the previous year and thus were not new recruits, which would be expected if fitness was being compromised from the contamination. Based on samples taken during the same fall and winter from the LCP site and control areas, the ratios of hatch-year (HY) birds to adults were similar. However, based on samples taken during the spring and summer, the ratios of HY birds to adults from LCP were lower than reported previously in studies in the southeast. This result suggests that the population age structure may have been affected by the contamination. Future studies specifically focused on reproductive success and fitness are needed at LCP and throughout the Brunswick estuary.
Keywords
LCP,
Rallus longirostris,
Clapper Rail
Citation Information
Karen F. Gaines, Jay W. Summers, James C. Cumbee, Warren L. Stephens, et al.. "Is the LCP Superfund Site an Ecological Trap for Clapper Rails?"
Southeastern Naturalist
Vol. 10 Iss. 4 (2011)
Available at: http://works.bepress.com/karen_gaines/1/