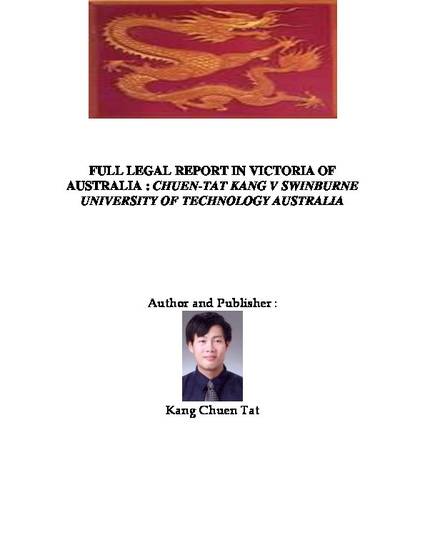 Book
FULL LEGAL REPORT IN VICTORIA OF AUSTRALIA : CHUEN-TAT KANG V SWINBURNE UNIVERSITY OF TECHNOLOGY AUSTRALIA
(2015)
Abstract
The electronic book is regarding legal analysis of doctorate PhD awarding in a university in Australia.
Publication Date
Fall May 1, 2015
Citation Information
Chuen-Tat Kang. FULL LEGAL REPORT IN VICTORIA OF AUSTRALIA : CHUEN-TAT KANG V SWINBURNE UNIVERSITY OF TECHNOLOGY AUSTRALIA. Tanjung Bunga, Penang, Malaysia.(2015) p. 1
Available at: http://works.bepress.com/kangchuentat/33/
Creative Commons license
This work is licensed under a Creative Commons CC_BY-NC International License.