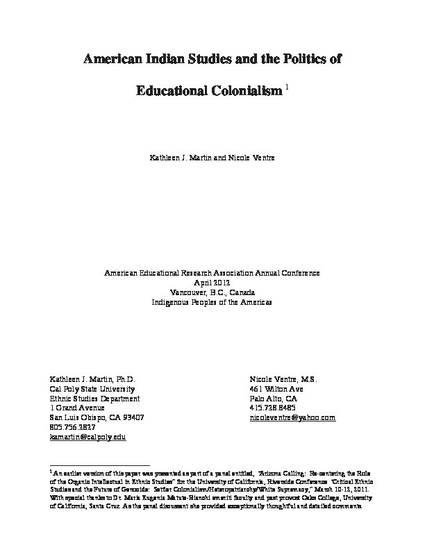 Presentation
American Indian Studies and the Politics of Educational Colonialism
American Educational Research Association Annual Conference Proceedings: Vancouver, B.C., Canada
Publication Date
4-1-2012
Abstract
The politics of higher education at universities pose challenges for Native and Indigenous students that impact equity and equality, and the teaching and learning process. The most recent challenge: Native Studies Departments are no longer necessary as an academic discipline. This paper calls into question the right to education and future success and achievement in scholarship that increases knowledge for all peoples in the future. However, higher education institutions are still "working on deconstructing colonialism" with less attention to the enduring marginalization of disempowered peoples as campuses continue struggle with issues of inclusion, budgetary crises, and the minimizing of scholarship. Included is an examination of the current status of five (5) "critical points" identified by Robert E. Powless (2002) as important for the future of American Indian Studies, faculty and students.
Citation Information
Kathleen J. Martin and Nicole Ventre. "American Indian Studies and the Politics of Educational Colonialism"
American Educational Research Association Annual Conference Proceedings: Vancouver, B.C., Canada
(2012)
Available at: http://works.bepress.com/kamartin/15/