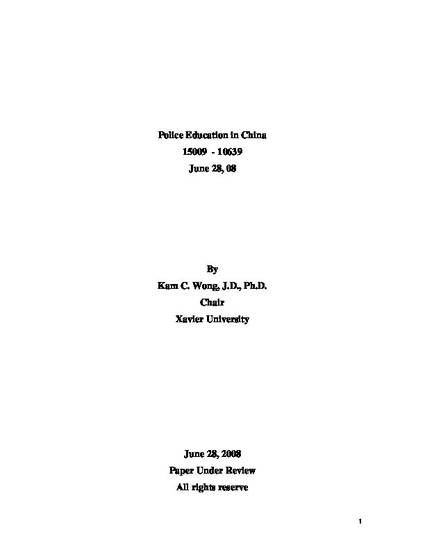 Contribution to Book
Police Education in China
Policing with Chinese Characteristics (2009)
Abstract
A comprehensive review of literature shows that there is currently no academic study on PRC police education, in the West. More significantly, a review of a selected comparative criminal justice text books shows that the U.S. students are not being exposed to Chinese criminal justice and policing. The lack of literature on China obstructs comparative criminal justice (police) research.
This article of first impression seeks to provide an overview PRC police education system.
This article is organized as follows. To anchor the study, Section I provides a brief review of literature on general theory and best practice of police education in the West. Section II traces the "History of Police Education in China" from Qing dynasty to the PRC. Section III provides an overview of "PRC Police Education System." Section IV: "PRC Police Educational Philosophy" discusses PRC police education philosophy, past as well as present. Section V: "US vs. China Police Education Compared
compares and contrasts police education in China vs. U.S. Section VI reports on "Police Studies in China" as an emerging academic discipline. Section VI reports the findings of a scientific survey conducted in China about police cadets' assessment of their educational experience. Section VIII discusses some of the issues and problems with PRC police education during the reform period. The last section (IX) is a conclusion.
Keywords
Police Education in China,
Chinese Police Education History,
Chinese Education Philosophy
Citation Information
Kam C. Wong. "Police Education in China"
Policing with Chinese Characteristics
(2009)
Available at: http://works.bepress.com/kam_wong/32/