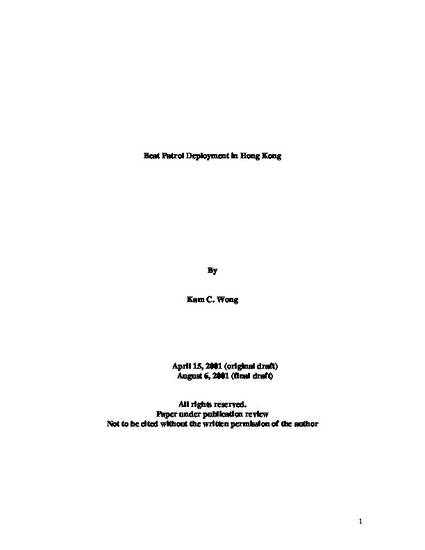 Article
Beat Patrol Deployment in Hong Kong
International Journal of Comparative & Applied Criminal Justice (2002)
Abstract
On March 14, 2001 a young Hong Kong Police (HKP) Constable (PC) Leung Shing-yan was shot and killed in the line of duty. The incident aroused a fierce public debate as to whether HKP should adopt a one-officer (single beat or SB) vs. two-officers (double beat or DB) patrol deployment policy. This article addresses critical policy issues raised in the SB vs. DB debate. How should such a policy debate be resolved? What are the pros and cons of both patrol deployment measures?More importantly, what immediate and effective remedial steps can be taken to secure the front line police officers' safety and security without compromising the public's legitimate expectation for order and service. This article provides the HKP community – policy makers, operational managers and front line officers - with relevant research literature and pertinent empirical data to understand the issues involved and help resolve the debate on hand in an informed and reflective manner. In the end, it is argued that education and training is more important than patrol deployment in reducing risk of injury to police officers in the line of duty. Removal of side arms and demilitarization of the HKP is also suggested.
Citation Information
Kam C. Wong. "Beat Patrol Deployment in Hong Kong"
International Journal of Comparative & Applied Criminal Justice
Vol. 25 Iss. 1 (2002)
Available at: http://works.bepress.com/kam_wong/23/