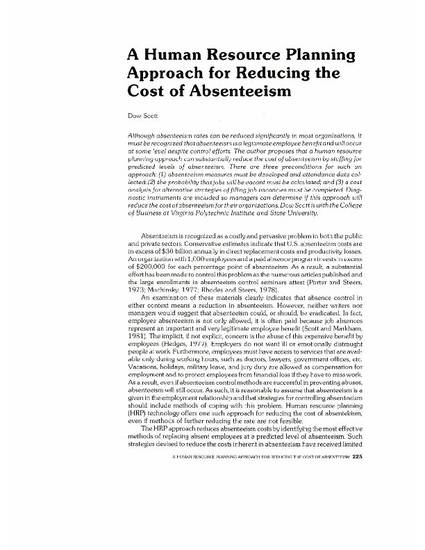 Article
A human resource planning approach for reducing the cost of absenteeism
Human Resource Planning Journal (1982)
Abstract
Although absenteeism rates can be reduced significantly in most organizations, it must be recognized that absenteeism is a legitimate employee benefit and will occur at some level despite control efforts. The author proposes that a human resource planning approach can substantially reduce the cost of absenteeism by staffing for predicted levels of absenteeism. There are three preconditions for such an approach: (1) absenteeism measures must be developed and attendance data collected: (2) the probability that jobs will be vacant must be calculated; and (3) a cost analysis for alternative strategies of filling job vacancies must be completed. Diagnostic instruments are included so managers can determine if this approach will reduce cost of absenteeism for their organizations. Dow Scott is with the College of Business at Virginia Polytechnic Institute and State University.
Citation Information
Dow Scott. "A human resource planning approach for reducing the cost of absenteeism"
Human Resource Planning Journal
Vol. 5 Iss. 4 (1982)
Available at: http://works.bepress.com/kalyn_lykkebak/2/