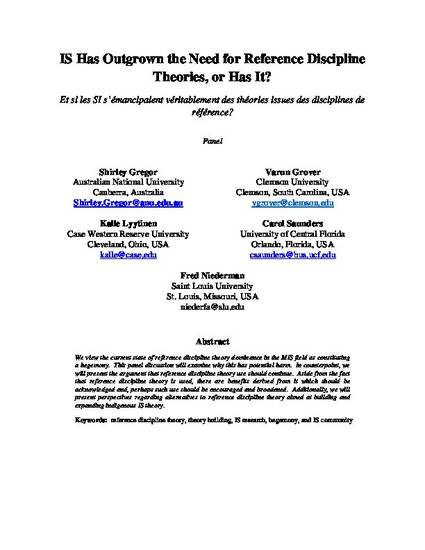 Other
IS Has Outgrown the Need for Reference Discipline Theories, Or Has It?
ICIS 2008 Proceedings
Publication Date
1-1-2008
Abstract
We view the current state of reference discipline theory dominance in the MIS field as constituting a hegemony. This panel discussion will examine why this has potential harm. In counterpoint, we will present the argument that reference discipline theory use should continue. Aside from the fact that reference discipline theory is used, there are benefits derived from it which should be acknowledged and, perhaps such use should be encouraged and broadened. Additionally, we will present perspectives regarding alternatives to reference discipline theory aimed at building and expanding indigenous IS theory.
Citation Information
Shirley Gregor, Varun Grover, Kalle Lyytinen, Carol Saunders, et al.. "IS Has Outgrown the Need for Reference Discipline Theories, Or Has It?" (2008)
Available at: http://works.bepress.com/kalle_lyytinen/18/