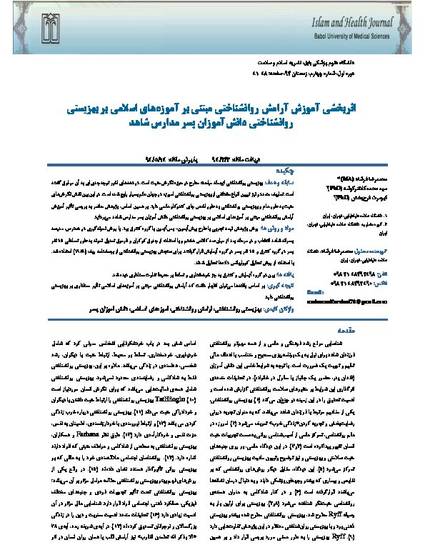 Article
Effectiveness of Psychological tranquility based on Islamic teachings on psychological well-being in shahed school Boy students
Islam and Health Journal (2014)
Abstract
Introduction: psychological well-being one of the discussions in a positive attitude. In recent decades attention has been paid to it. Numerous compliments and explain the various types of psychological well-being is common in the world today. The role of positive attitudes in general and in particular psychological well-being rather than scientific curiosity. The main objective: Accordingly, the present study examined the psychological effects of Psychological tranquility Based on Islamic teaching on psychological well-being in school's Boy students. Methods: This quasi -experimental design with pretest-posttest control group. By sampling randomly selected secondary schools and then randomly selected from among three classes of 15 students in the control group and 15 in the experimental group. The investigation was done using psychological well-being Reef (1989) Questionnaire. The analysis of the variables was done using analysis of covariance. Findings: The experimental and control groups except for autonomy and Mastery of the environment significantly difference was seen. Conclusion: Based on these results, we suggest that psychological tranquility based on Islamic teachings can effect on psychological well-being and this effect is important.
Keywords
Psychological well-being,
Psychological tranquility,
Islamic teachings,
Boy students
Publication Date
Winter March 6, 2014
Citation Information
Seyed Mohammad, Kalantarkousheh, دکتر سید محمد کلانتر کوشه. "Effectiveness of Psychological tranquility based on Islamic teachings on psychological well-being in shahed school Boy students"
Islam and Health Journal
Vol. 1 Iss. 4 (2014)
Available at: http://works.bepress.com/kalantar/40/