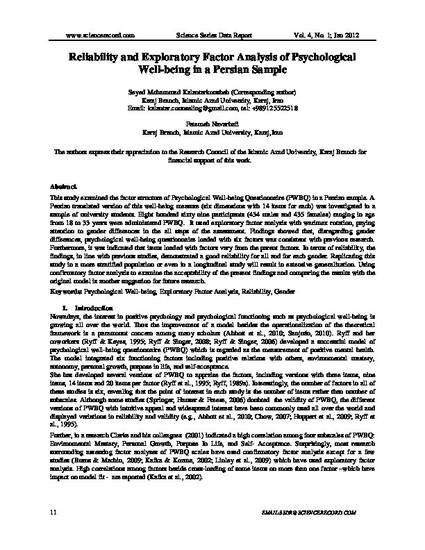 Article
Reliability and Exploratory Factor Analysis of Psychological Well-being in a Persian Sample
Science Series Data Report (2012)
Abstract
This study examined the factor structure of Psychological Well-being Questionnaire (PWBQ) in a Persian sample. A Persian translated version of this well-being measure (six dimensions with 14 items for each) was investigated in a sample of university students. Eight hundred sixty nine participants (434 males and 435 females) ranging in age from 18 to 33 years were administered PWBQ. It used exploratory factor analysis with warimax rotation, paying attention to gender differences in the all steps of the assessment. Findings showed that, disregarding gender differences, psychological well-being questionnaire loaded with six factors was consistent with previous research. Furthermore, it was indicated that items loaded with factors vary from the parent factors. In terms of reliability, the findings, in line with previous studies, demonstrated a good reliability for all and for each gender. Replicating this study in a more stratified population or even in a longitudinal study will result in extensive generalization. Using confirmatory factor analysis to examine the acceptability of the present findings and comparing the results with the original model is another suggestion for future research.
Keywords
Psychological Well-being,
Exploratory Factor Analysis,
Reliability,
Gender
Publication Date
June, 2012
Citation Information
Seyed Mohammad Kalantarkousheh, دکتر سید محمد کلانتر کوشه. "Reliability and Exploratory Factor Analysis of Psychological Well-being in a Persian Sample"
Science Series Data Report
Vol. 4 Iss. 1 (2012)
Available at: http://works.bepress.com/kalantar/4/