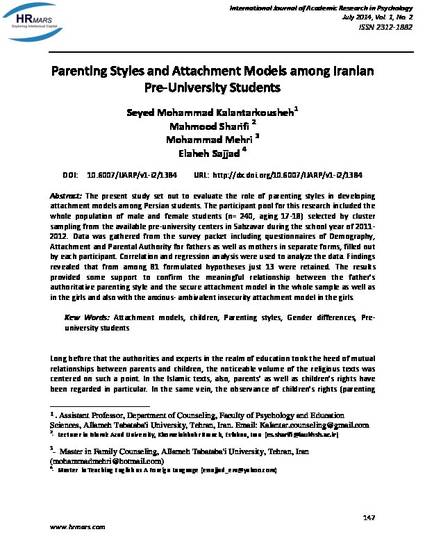 Article
Parenting Styles and Attachment Models among Iranian Pre-University Students
International Journal of Academic Research in Psychology (2014)
Abstract
The present study set out to evaluate the role of parenting styles in developing attachment models among Persian students. The participant pool for this research included the whole population of male and female students (n= 240, aging 17-18) selected by cluster sampling from the available pre-university centers in Sabzavar during the school year of 2011- 2012. Data was gathered from the survey packet including questionnaires of Demography, Attachment and Parental Authority for fathers as well as mothers in separate forms, filled out by each participant. Correlation and regression analysis were used to analyze the data. Findings revealed that from among 81 formulated hypotheses just 13 were retained. The results provided some support to confirm the meaningful relationship between the father's authoritative parenting style and the secure attachment model in the whole sample as well as in the girls and also with the anxious- ambivalent insecurity attachment model in the girls.
Keywords
Attachment models,
children,
Parenting styles,
Gender differences,
Preuniversity students
Citation Information
Seyed Mohammad, Kalantarkousheh, دکتر سید محمد کلانتر کوشه. "Parenting Styles and Attachment Models among Iranian Pre-University Students"
International Journal of Academic Research in Psychology
Vol. 1 Iss. 2 (2014)
Available at: http://works.bepress.com/kalantar/31/