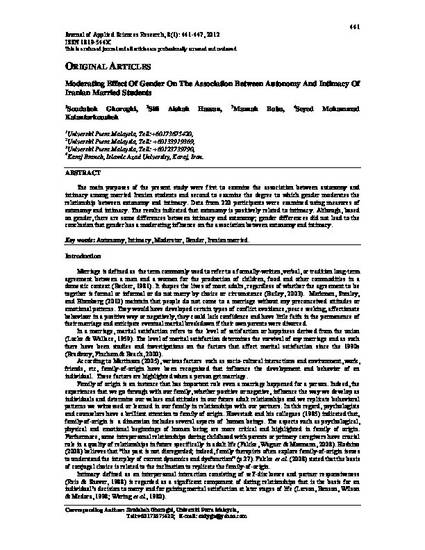 Article
Moderating Effect of Gender on the Association between Autonomy and Intimacy of Iranian Married Students
Journal of Applied Sciences Research (2012)
Abstract
The main purposes of the present study were first to examine the association between autonomy and intimacy among married Iranian students and second to examine the degree to which gender moderates the relationship between autonomy and intimacy. Data from 220 participants were examined using measures of autonomy and intimacy. The results indicated that autonomy is positively related to intimacy. Although, based on gender, there are some differences between intimacy and autonomy; gender differences did not lead to the conclusion that gender has a moderating influence on the association between autonomy and intimacy.
Keywords
Autonomy,
Intimacy,
Moderator,
Gender,
Iranian married.
Citation Information
S Ghoroghi, S A Hassan, M Baba and Seyed Mohammad Kalantarkousheh. "Moderating Effect of Gender on the Association between Autonomy and Intimacy of Iranian Married Students"
Journal of Applied Sciences Research
Vol. 8 Iss. 1 (2012)
Available at: http://works.bepress.com/kalantar/3/