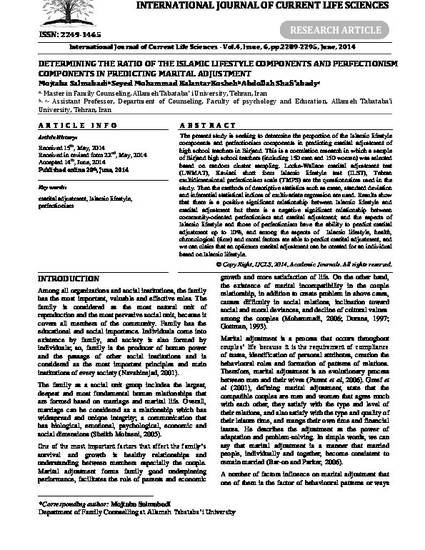 Article
DETERMINING THE RATIO OF THE ISLAMIC LIFESTYLE COMPONENTS AND PERFECTIONISM COMPONENTS IN PREDICTING MARITAL ADJUSTMENT
International Journal of Current Life Sciences (2014)
Abstract
components and perfectionism components in predicting marital adjustment of high school teachers in Birjand. This is a correlation research in which a sample of Birjand high school teachers (including 150 men and 150 women) was selected based on random cluster sampling. Locke-Wallace marital adjustment test (LWMAT), Kaviani short form Islamic lifestyle test (ILST), Tehran multidimensional perfectionism scale (TMPS) are the questionnaires used in the study. Then the methods of descriptive statistics such as mean, standard deviation and inferential statistical indices of multivariate regression are used. Results show that there is a positive significant relationship between Islamic lifestyle and marital adjustment but there is a negative significant relationship between community-oriented perfectionism and marital adjustment; and the aspects of Islamic lifestyle and those of perfectionism have the ability to predict marital adjustment up to 10%, and among the aspects of Islamic lifestyle,health, chronological (time) and moral factors are able to predict marital adjustment, and we can claim that an optimum marital adjustment can be created for an individual based on Islamic lifestyle.
Keywords
marital adjustment,
Islamic lifestyle,
perfectionism
Publication Date
Spring 2014
Citation Information
Seyed Mohammad, Kalantarkousheh, دکتر سید محمد کلانتر کوشه. "DETERMINING THE RATIO OF THE ISLAMIC LIFESTYLE COMPONENTS AND PERFECTIONISM COMPONENTS IN PREDICTING MARITAL ADJUSTMENT"
International Journal of Current Life Sciences
Vol. 4 Iss. 6 (2014)
Available at: http://works.bepress.com/kalantar/23/