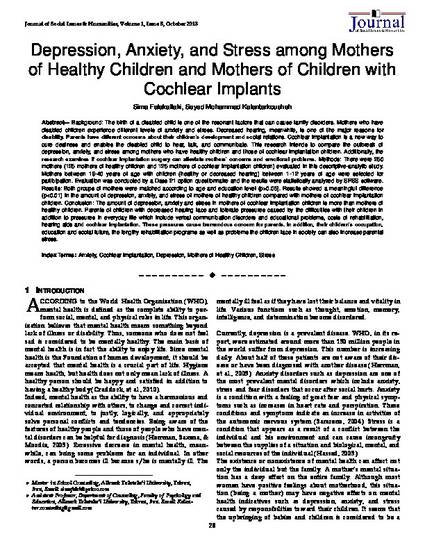 Article
Depression, Anxiety, and Stress among Mothers of Healthy Children and Mothers of Children with Cochlear Implants
Journal of Social Issues & Humanities (2013)
Abstract
Background: The birth of a disabled child is one of the resonant factors that can cause family disorders. Mothers who have disabled children experience different levels of anxiety and stress. Decreased hearing, meanwhile, is one of the major reasons for disability. Parents have different concerns about their children's development and social relations. Cochlear implantation is a new way to cure deafness and enables the disabled child to hear, talk, and communicate. This research intends to compare the outbreak of depression, anxiety, and stress among mothers who have healthy children and those of cochlear implantation children. Additionally, the research examines if cochlear implantation surgery can alleviate mothers' concerns and emotional problems. Methods: There were 250 mothers (125 mothers of healthy children and 125 mothers of cochlear implantation children) evaluated in this descriptive-analytic study. Mothers between 19-40 years of age with children (healthy or decreased hearing) between 1-12 years of age were selected for participation. Evaluation was conducted by a Dass 21 option questionnaire and the results were statistically analyzed by SPSS software. Results: Both groups of mothers were matched according to age and education level (p>0.05). Results showed a meaningful difference (p<0.01) in the amount of depression, anxiety, and stress of mothers of healthy children compared with mothers of cochlear implantation children. Conclusion: The amount of depression, anxiety and stress in mothers of cochlear implantation children is more than mothers of healthy children. Parents of children with decreased hearing face and tolerate pressures caused by the difficulties with their children in addition to pressures in everyday life which include verbal communication disorders and educational problems, costs of rehabilitation, hearing aids and cochlear implantation. These pressures cause tremendous concern for parents. In addition, their children's occupation, education and social future, the lengthy rehabilitation programs as well as problems the children face in society can also increase parental stress.
Keywords
Anxiety,
Cochlear Implantation,
Depression,
Mothers of Healthy Children,
Stress
Publication Date
Fall November 18, 2013
Citation Information
Seyed Mohammad, Kalantarkousheh, دکتر سید محمد کلانتر کوشه. "Depression, Anxiety, and Stress among Mothers of Healthy Children and Mothers of Children with Cochlear Implants"
Journal of Social Issues & Humanities
Vol. 1 Iss. 5 (2013)
Available at: http://works.bepress.com/kalantar/18/