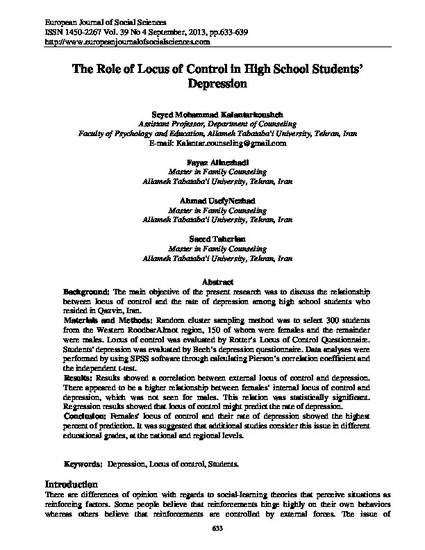 Article
The Role of Locus of Control in High School Students' Depression
European Journal of Social Sciences (2013)
Abstract
Background: The main objective of the present research was to discuss the relationship between locus of control and the rate of depression among high school students who resided in Qazvin, Iran. Materials and Methods: Random cluster sampling method was to select 300 students from the Western RoodbarAlmot region, 150 of whom were females and the remainder were males. Locus of control was evaluated by Rotter's Locus of Control Questionnaire. Students' depression was evaluated by Bech's depression questionnaire. Data analyses were performed by using SPSS software through calculating Pierson's correlation coefficient and the independent t-test. Results: Results showed a correlation between external locus of control and depression. There appeared to be a higher relationship between females' internal locus of control and depression, which was not seen for males. This relation was statistically significant. Regression results showed that locus of control might predict the rate of depression. Conclusion: Females' locus of control and their rate of depression showed the highest percent of prediction. It was suggested that additional studies consider this issue in different educational grades, at the national and regional levels.
Keywords
Depression,
Locus of control,
Students
Citation Information
Seyed Mohammad, Kalantarkousheh, دکتر سید محمد کلانتر کوشه. "The Role of Locus of Control in High School Students' Depression"
European Journal of Social Sciences
Vol. 39 Iss. 4 (2013)
Available at: http://works.bepress.com/kalantar/15/