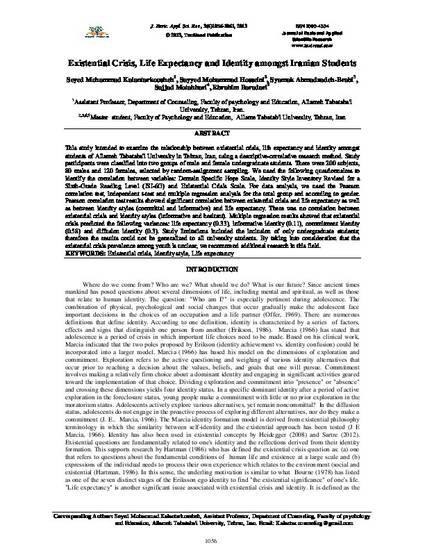 Article
Existential Crisis, Life Expectancy and Identity amongst Iranian Students
Journal of Basic and Applied Scientific Research (2013)
Abstract
This study intended to examine the relationship between existential crisis, life expectancy and identity amongst students of Allameh Tabataba'i University in Tehran, Iran, using a descriptive-correlative research method. Study participants were classified into two groups of male and female undergraduate students. There were 200 subjects, 80 males and 120 females, selected by random-assignment sampling. We used the following questionnaires to identify the correlation between variables: Domain Specific Hope Scale, Identity Style Inventory Revised for a Sixth-Grade Reading Level (ISI-6G) and Existential Crisis Scale. For data analysis, we used the Pearson correlation test, independent t-test and multiple regression analysis for the total group and according to gender. Pearson correlation test results showed significant correlation between existential crisis and life expectancy as well as between identity styles (committal and informative) and life expectancy. There was no correlation between existential crisis and identity styles (informative and hesitant). Multiple regression results showed that existential crisis predicted the following variances: life expectancy (0.33), informative identity (0.11), commitment identity (0.58) and diffusion identity (0.3). Study limitations included the inclusion of only undergraduate students; therefore the results could not be generalized to all university students. By taking into consideration that the existential crisis prevalence among youth is unclear, we recommend additional research in this field.
Keywords
Existential crisis,
Identity style,
Life expectancy
Citation Information
Seyed Mohammad, Kalantarkousheh, دکتر سید محمد کلانتر کوشه. "Existential Crisis, Life Expectancy and Identity amongst Iranian Students"
Journal of Basic and Applied Scientific Research
Vol. 3 Iss. 6 (2013)
Available at: http://works.bepress.com/kalantar/14/