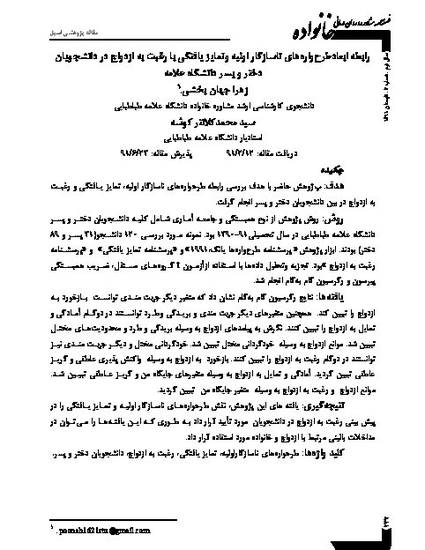 Article
Relationship Between Dimensions of Early Maladaptive Schemas and Desire For Marriage Among Students at Allameh Tabataba'i University
Journal of Family Counseling and Psychotherapy (2012)
Abstract
Abstract Background and Objective: The aim of this study was to investigate relationship between Early Maladaptive Schema and desire for marriage among university students. Method: Students who were enrolled in the 1390-91 at Allame Tabataba'i University were chosen for the present research) 31 male, 89 female). Schema Questionnaire, Differentiation of Self Inventory and Desire for Marriage Questionnaire were utilized as instrument in this study. Data was analyzed by using Independent Samples t-Test, Pearson's Correlation Coefficient and Multiple Regression. Results: Stepwise regression analysis showed that other directedness could explain feedback in marriage. Other directedness and disconnection and rejection could explain desire for marriage. Disconnection, rejection and impaired limits explained attitude to marriage's consequences. Additionally, obstacles to marriage explained with impaired autonomy. Other directedness and impaired autonomy could explain the desire for marriage, in two steps. Feedback in marriage was explained with emotional reactivity and emotional cutoff. Desire for marriage was explained with I-position and emotional cutoff. Lastly, I-position explained obstacles to marriage and desire for marriage. Conclusion: Findings of the present study have shown that early Maladaptive Schema and Differentiation of Self could explain desire for marriage in university students.
Keywords
Early Maladaptive Schema,
Differentiation of Self,
Desire for Marriage,
male and female students.
Citation Information
Seyed Mohammad, Kalantarkousheh, دکتر سید محمد کلانتر کوشه and Zahra Jahanbakhshi. "Relationship Between Dimensions of Early Maladaptive Schemas and Desire For Marriage Among Students at Allameh Tabataba'i University"
Journal of Family Counseling and Psychotherapy
Vol. 2 Iss. 2 (2012)
Available at: http://works.bepress.com/kalantar/11/