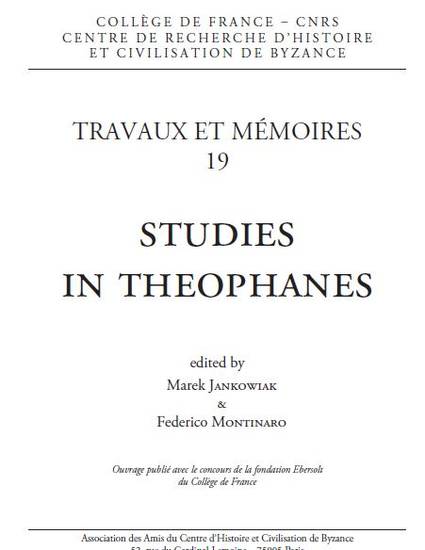 Article
"From the Many, One? The Shared Manuscripts of the CHRONICLE of Theophanes and the CHRONOGRAPHY of Synkellos," Studies in Theophanes (Travaux et mémoires 19) Paris, 2015: pp. 93-117
Travaux et mémoires (2015)
Abstract
A survey of the surviving medieval manuscripts of two monumental (in their own time) and extremely important (for scholars today) historical works produced in Constantinople and its environs between 808-815: the Chronography of George Synkellos and the Chronicle of Theophanes the Confessor.
The article argues that, based on the surviving evidence, the two works were not read separately but as a single Account of the World ("Universal History" or "Chronography"). That is, in every surviving manuscript there is evidence that the works originally circulated in the same manuscript codices (books) where they were joined back-to-back. What this means for how we should now read and study the works today remains to be discussed.
Publication Date
Winter 2015
Citation Information
Jesse W Torgerson. ""From the Many, One? The Shared Manuscripts of the CHRONICLE of Theophanes and the CHRONOGRAPHY of Synkellos," Studies in Theophanes (Travaux et mémoires 19) Paris, 2015: pp. 93-117"
Travaux et mémoires
Vol. 19 (2015) p. 93 - 117
Available at: http://works.bepress.com/jwtorgerson/3/