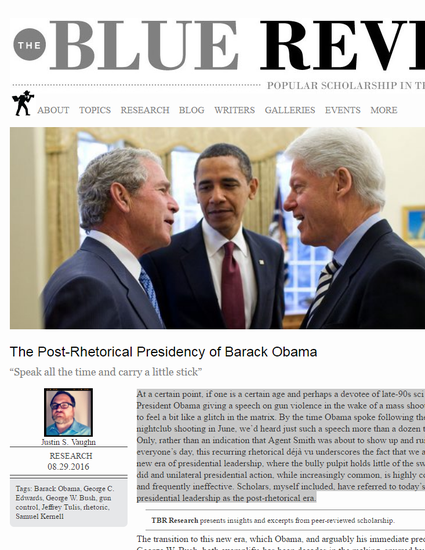 Popular Press
The Post-Rhetorical Presidency of Barack Obama
The Blue Review (2016)
Abstract
At a certain point, if one is a certain age and perhaps a 
devotee of late-90s sci fi
, President Obama giving a speech on gun violence in the wake of a mass shooting began to feel a bit like a glitch in the matrix. By the time Obama spoke following the Orlando nightclub shooting in June, we'd heard just such a speech 
more than a dozen
 times. Only, rather than an indication that Agent Smith was about to show up and ruin everyone's day, this recurring rhetorical déjà vu underscores the fact that we are in a new era of presidential leadership, where the bully pulpit holds little of the sway it once did and unilateral presidential action, while increasingly common, is highly constrained and frequently ineffective. Scholars, myself included, have referred to today's era of presidential leadership as the post-rhetorical era.
Keywords
Barack Obama,
George C. Edwards,
George W. Bush,
gun control,
Jeffrey Tulis,
rhetoric
Publication Date
August 29, 2016
Citation Information
Justin S. Vaughn. "The Post-Rhetorical Presidency of Barack Obama"
The Blue Review
(2016)
Available at: http://works.bepress.com/justin_vaughn/39/